Image via A Beautiful Mess
What's the best part of Halloween?
Some say it's the candy. Some say it's dressing up as something totally different for a night. And others say it's celebrating the beginning of fall with some good, old-fashioned partying.
Of course, if you're hosting your own bash, you have to think about more than what day you'll celebrate, and which signature Halloween cocktail you'll serve.
You'll also need to think about how to set up your home so your guests have a memorable experience. Luckily, MakeSpace (they offer full-service storage in Brooklyn, Manhattan, Queens, DC, Chicago, and LA) has some pointers on how to do exactly that.
So grab your boo, invite your ghoul-friends, and get ready for a wicked gourd time.
Use furniture to create conversation areas
Image via Delineate Your Dwellings
Imagine walking into your home from the perspective of a party guest. Would you know where to find the punch bowl? Or where to chill the bottle of bubbly you brought?  
Arrange your furniture to guide partygoers with subtle directions. Convey a sense of entry right off the bat by designating a path between two conversational areas (like with this sofa setup featured in Houzz). Temporarily remove any pieces of furniture that distract from or block the vision you're going for.
Corral any potentially problematic knickknacks — e.g., remote controls and blanket throws — and toss them into a storage trunk or ottoman, so they don't distract. Bonus: You'll be able to easily find those items after the party.  
Also, give guests a designated place to hang their outwear. You could clear the entryway and hang coats on hooks there, for example.
Don't have a foyer?
Good Housekeeping has tips on how to fake an entryway in your home.
The point is to eliminate any unnecessary clutter that detracts from the ambience you worked so hard to create–and that negatively impacts your life.
Take advantage of extra surfaces for holding decor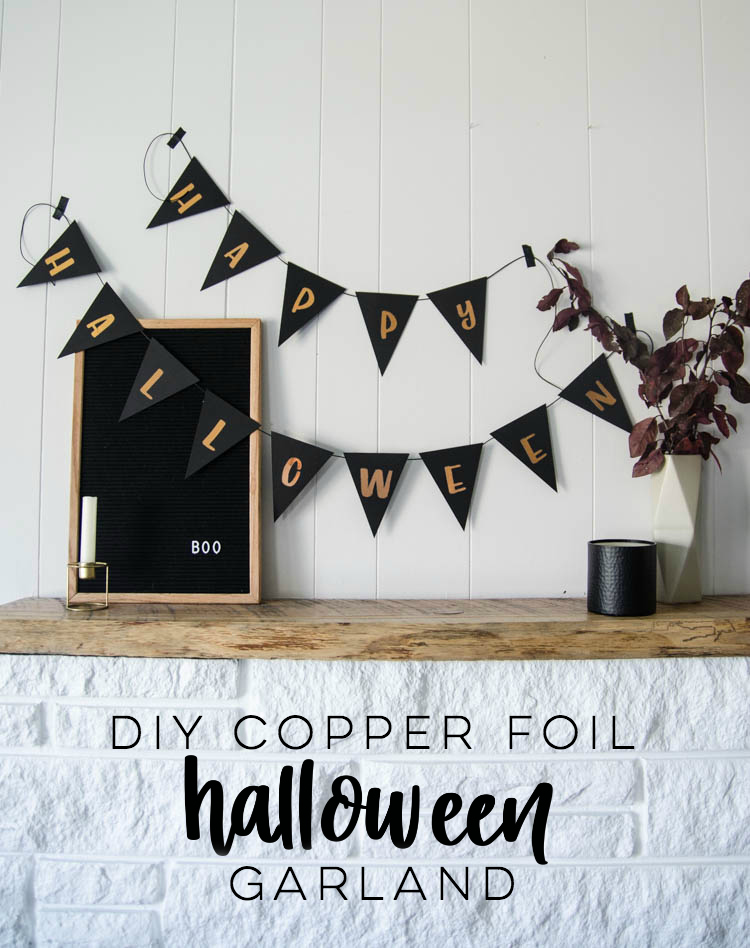 Image via Lemon Thistle
Got mantels? Clear them, and decorate them with cobwebs and other spooky decorations. Check out Dwelling in Happiness' roundup of spooktacular Halloween mantels and vignettes you can easily DIY.
Convert the space under the mantel into a makeshift conversational nook, like TomKat Studio did.
Other built-in surfaces that can't be removed, like shelves, make great additional resources for decoration or party purposes. Temporarily empty a bookcase and turn it into a bar. And use tablecloths to easily convert any potential problem areas (like rusty consoles) into hidden workhorses (hello, eyeball punch bowl!).
Clean and free up your fridge before the party
Image via Clean Mama
You'll want to keep your refrigerator relatively empty for storing all those deviled spider eggs and stuffed jack-o'-lanterns. So toss any expired food before the party, and give your fridge a good wipedown.
Pro tip: Take advantage of your fridge's vertical space. Add some cabinet shelves to the fridge, so you can chill multiple trays of Monster Berries and platters of Tombstone Taco Dip at once.
During the shindig, keep drinks cold outside the fridge by converting your sink into an oversized wine cooler, as suggested in Real Simple's guide on small-space entertaining.
Cluttered sink more of an eyesore than when empty?
Here's how to declutter it in just 15 minutes.
Next, freeze dark flowers, like dahlias and black roses, into several ice cubes for a delightfully bone-chilling effect.
Spread out all the snacks to prevent guests from bottlenecking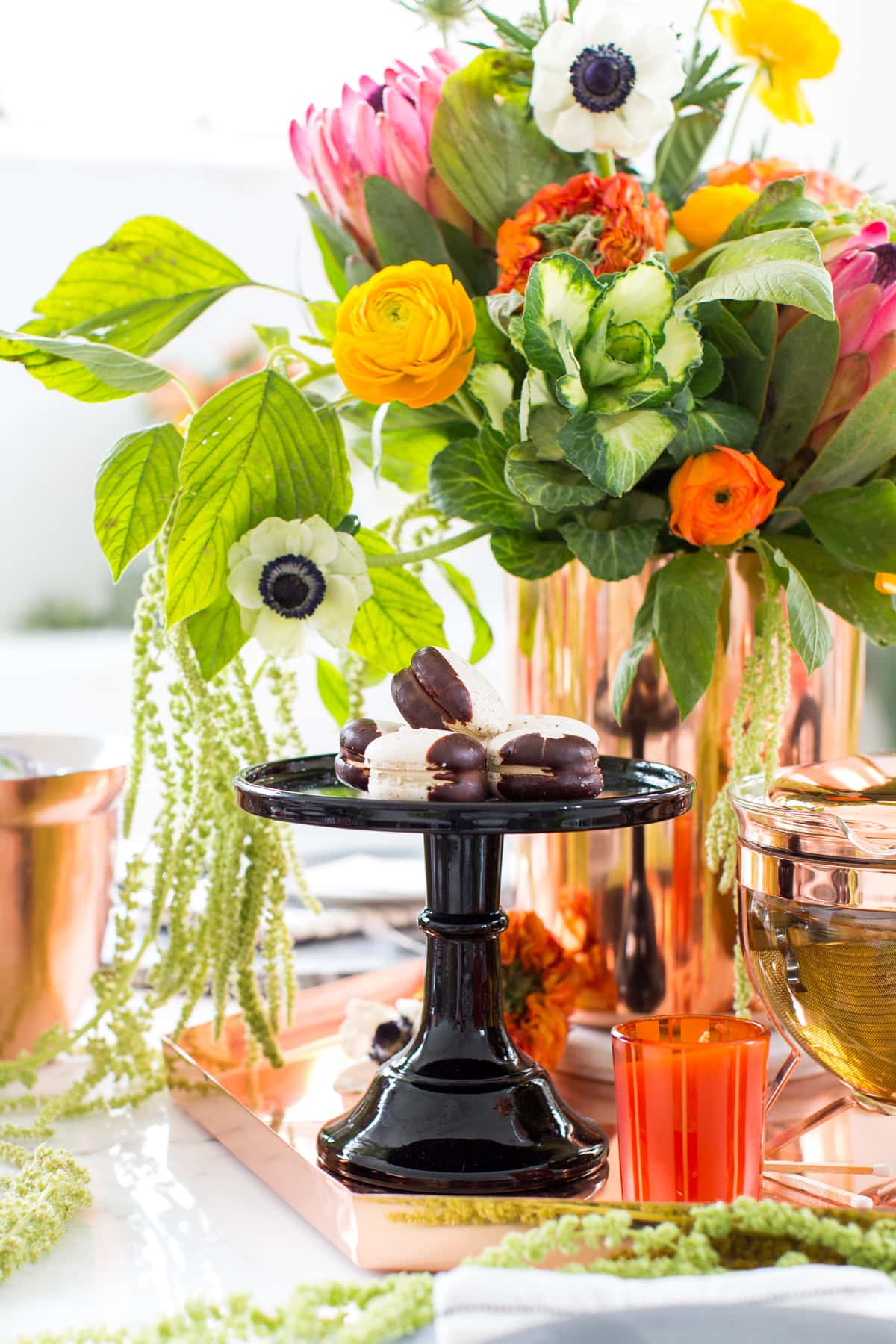 Image via Sugar and Cloth
What's a party without snacks?
We don't know, and we don't want to find out.
Ensure your guests have steady access to the savories and sweets of their choice. Instead of keeping snacks in only one nook, spread them around the party area. This will keep guests from bottlenecking in one spot.
You can even do this without taking up too much surface space. Simply arrange the goods on various multi-tiered stands, like this rustic-sweet setup from Bridal Guide, and place them around the party area.
Pro tip: Serving mostly finger foods will eliminate the need for utensils, reducing cutlery clutter.  
And it is Halloween, so don't forget the candy! Rather than letting lollipops loose on your decorations, temporarily trap them in see-through containers like these ClickClack Cubes. Or style apothecary jars – à la the queen of candy, Dylan Lauren – and fill them with spine-tingling treats.
Incorporate household items into your decor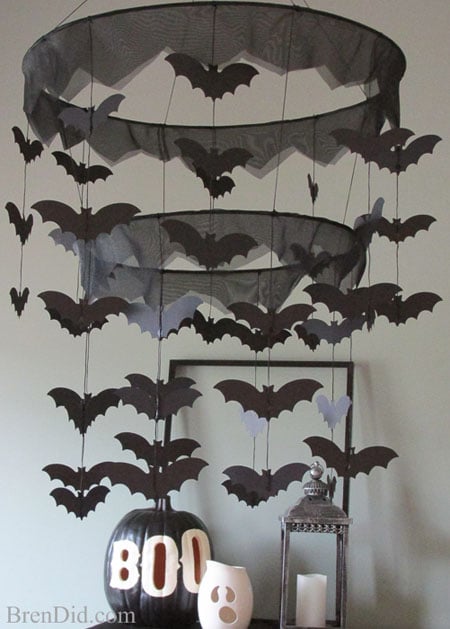 Decorating is one of the most fun parts of throwing a party. And with some imagination, you can easily incorporate some of your pre-existing decor.
Get inspired by Country Living's tricked-out mantel and stick cutout witch hats on the heads of  any portraits you have hanging in the room.
You can even use your greenery. Turn planters into boo buckets, like DIY Village did. Or spray black spray paint on faux plants. So much for your green thumb …  
And if you're planning to use your bar cart during the party, why not decorate it for the occasion?
Brit + Co has three spooky-chic ways to decorate your bar cart.
Have all your (decluttering) bases covered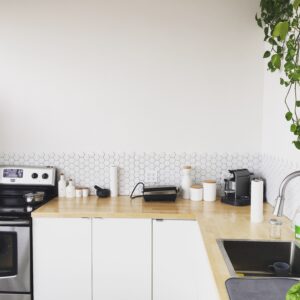 Image via Unsplash
Have you decluttered everywhere that partygoers might pop into?  
In the bathroom, make sure all your personal toiletries are stashed away. You can easily stow everything at once in an over-the-door caddy installed, well, over the door of your bathroom sink cabinet.  
People often congregate in the kitchen during parties, so make sure your kitchen is clean and organized. While you may not have time to sort through every item, Clean and Scentsible has a quick list of 20 things to declutter from the kitchen.
Even clearing up a little bit of extra space means room for plates, cups, and other party accessories that tend to migrate from the living room. Like the knight statue you could have sworn was by your TV a second ago but is now mysteriously guarding your fridge …
This post was written by MakeSpace, a full-service storage company that picks up, stores, and delivers your stuff so you never have to visit a self-storage unit.